Phone Sex Directory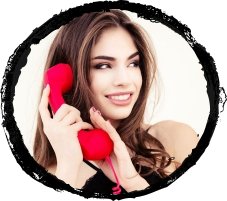 You've got a hard-on and sure it's urgent that you take "care" of it. You can't allow that cum to build up and boil for too long. Maybe you want a little help… a little advice… and a little support. The best way to get it is through phone sex. You need the interaction of a kinky sexy female voice to guide you through masturbating… to tell you an erotic story in your ear…. or even to act out a little roleplay with you. Exploring your fantasy with another person is erotic and extremely sexy. Phone Sex is a treat that you give to yourself when you want a little something extra to masturbate with or to.
Telecoitus.com is an adult Phone Sex Directory that provides Links and Classified Ads to unique phone sex services and Operators that meet our standards by having ethics, providing good customer service, and also have longevity in the industry. This Phone Sex Directory has been online since 2001.
---
Phone Sex Operators
In the mood for a certain type of lady to share your most intimate fantasy with? The choices are endless… mature, educated, models, ethnic, redheads, blondes, brunettes, and whatever else tickles your pickle. The ladies listed below are some of the best in the phone sex industry. Just click their photo and view their webpage.